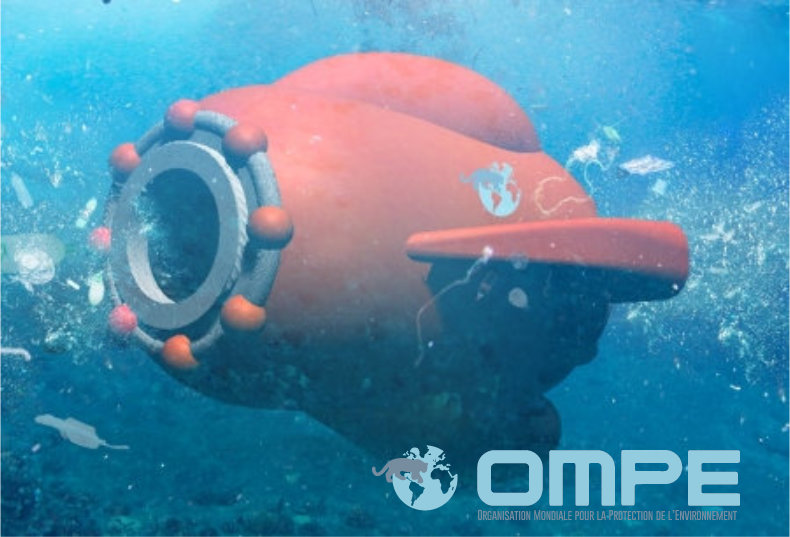 These barges sail constantly night and day above plastic vortices to recover all the waste. Each barge has 100 FISCHY drones connected by Radar and Sonar vacuuming the waste at every depth to bring them back on board. The giant tank compresses the plastics that will be recycled on the continent.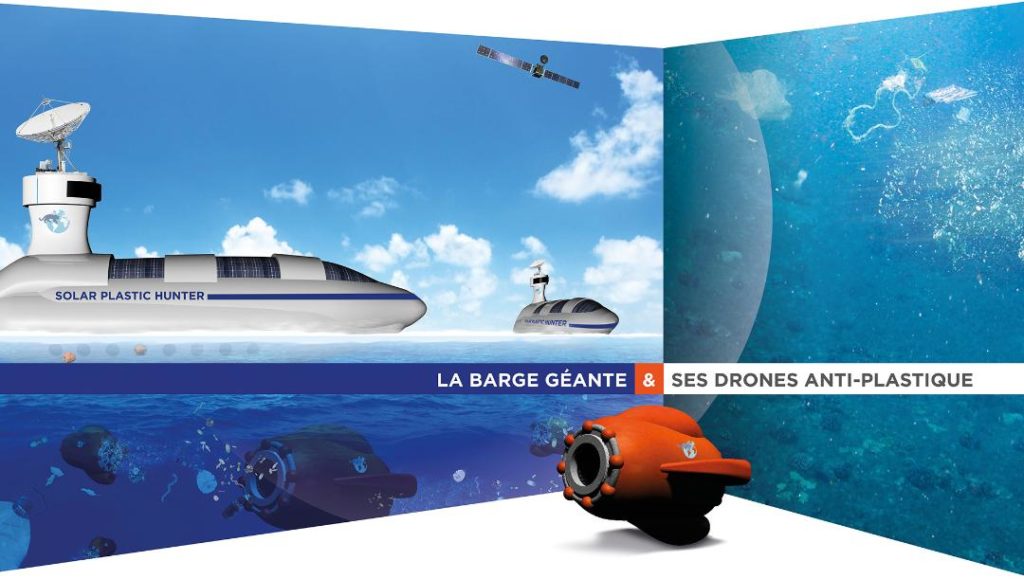 1 – Introduction : 
For reasons of confidentiality, we present you here only the generalities of this project. However, if you want to become a major partner on this OMPE's project, then you must send us a detailed request only in NDA mode via our contact page specifying the name of the chosen project including your desired level of participation and we will answer you as soon as possible.

2 – Key figure : 
OMPE Project name : "The Giant Barge and its FISCHY anti-plastic drones"
OMPE Project # : This project is the OMPE project number 2
Progress level : 2 / 5 (OMPE Classification)
Environnemental Urgency Degree : 5 / 5 (OMPE Classification : Very Urgent), imminent major threat to biodiversity, global warming and humanity
GWA (Global Warming Acceleration) : Low direct influence (PH updates)
Ease degree of realization : 5 / 5 (OMPE Classification), this project is easy to do and start
Chances of achieving the goal : The project goal can be reached at 100%
Number of estimated jobs created (direct and indirect) : 15.000
% Use of Fossil Energies : Faible (except for the construction of machines)
Operating energy : Solar electricity
Global cost : 
Main partner : In progress
Number of interested partners : 4
Number of countries sought : Maximum (Global Project of Planet Earth)
Number of countries interested : 2
Number of user countries : 0
3 – Project display : 
An autonomous system of movement consists of a barge and 100 FISCHY drones that operate day and night over the Vortex.
Each barge is autonomous in electricity thanks to its solar panels placed on the whole surface of the upper deck of the barge. All FISCHY drones are recharged in their hold thanks to the electricity of the barge. Each FISCHY drone automatically returns to its barge when its recovery basket is full or when
his battery is discharged. Each FISCHY drone operates at a different working depth.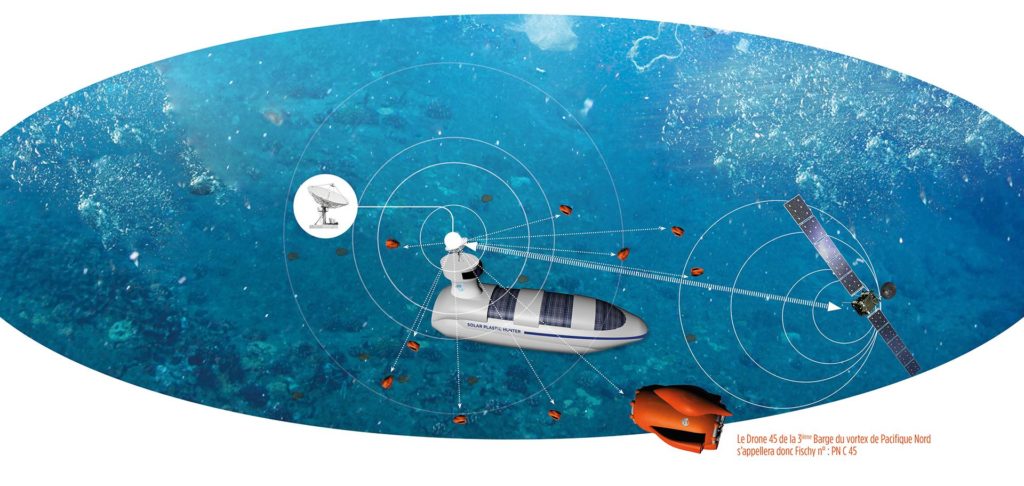 Each system can displace any vortex.
Each barge starts from a port with an empty tank and a set of 100 drones in its hold of drones.
All barges are tracked by satellite systems and identified and directed by a giant control screen at the headquarters of OMPE.
All FISCHY drones are guided by their barge thanks to radars and sonars.
Once a work area is completed, the barge recalls all its drones in the cargo hold and departs on a new work area.
Each Vortex has 26 barges of 100 FISCHY drones or 2600 drones.