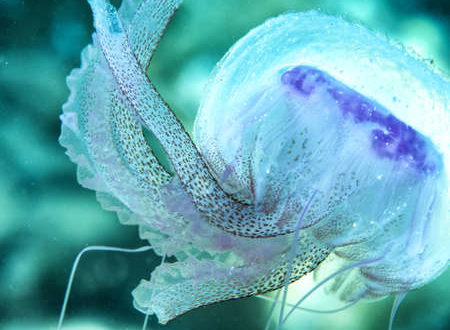 On the Côte d'Azur in the Mediterranean Sea, since the month of June, jellyfish have been back.
Their proliferation is due to current meteorological conditions: global warming involving rising water temperatures; outdoor heat; the different sea currents; …
For the majority of holidaymakers, they are a "nightmare". Some bathers, once informed of their presence by the purple flag or via the lifeguards present on the beaches, prefer not to go into the water.
For others, they are part of nature, you just have to avoid them or get out of the water when they are visible.
To reduce the effects of bites, there are certain actions to adopt
A. Get out of the water immediately to avoid any risk of discomfort;
B. Rinse the affected area immediately with sea water (never with fresh water);
C. Clean the wound without rubbing and try to remove the visible "tentacles" but never with bare hands. For others that are more difficult to see with the naked eye, it is recommended to follow the next point;
D. Put sand on the affected part and let it dry. After a while, gently scrape the sand using cardboard, paper or a credit card, … This will remove the tentacles that have remained trapped in the sand;
E. Thoroughly disinfect;
F. If pain persists or you feel unwell, seek medical attention.
It is essential to restore the truth concerning certain preconceived ideas:
G. Urinating on the wound: FALSE
This one in contact with fresh water risks indeed to burst nematocysts, these eyelashes which in contact with the skin of the swimmer trigger a tiny harpoon diffusing the venom and amplifying the pain.
H. Put vinegar on the wound: FALSE
Remedy advocated by some, but which can vary according to the species of jellyfish so it is better to abstain.
I. Dead jellyfish found on the sand are harmless: FALSE
Even dead, the animal can continue to sting. Its tentacles, even detached, can remain alive and spread the venom… sometimes for several weeks!
J. The risk of jellyfish stings is higher in warm waters: TRUE & FALSE
They are present all over the world, in both cold and hot areas. On the other hand, in France, the most stinging jellyfish are found in the Mediterranean and in the Southwest… the warmest waters in the country.
K. The bigger the jellyfish, the more dangerous it is: FALSE
In fact, it would be quite the opposite. Large white jellyfish do not sting while other much smaller ones are very stinging.
L. A sting can leave traces on the skin: TRUE
Yes, but for the healing to take place at best, you must avoid any exposure to the sun. A healing cream is recommended, it will prevent marks from remaining for several months. We therefore disinfect, cover and as soon as possible leave in the open air for healing, always protecting the area from the sun's rays.
Now that everything is clarified, good swimming to all and have a nice summer!