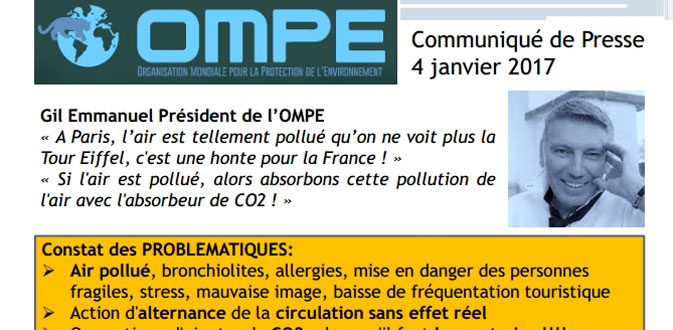 The OMPE combating pollution !
Press release in January 4th, 2017
Gil Emmanuel, President of OMPE
"In Paris, the air is so much polluted that we do not see any more the Eiffel Tower, it is a shame for France !"
"If the air is polluted, then let us absorb this air pollution with the absorber of CO2 !"
Report of problems
– polluted air, bronchiolites, allergies, endangered by the fragile people, the stress, the bad image, reduction of tourist attendance
– Action of alternation of the ineffective traffic reality
– We continue to add of the CO2 while it is necessary to subtract it !
Answer of OMPE : the absorber of CO2 !
Finally the solution !
PRINCIPLE
– Absorption of polluting gases and CO, CO2, methane and micro-particles
– Transformations of gases in liquids got back in the underground tank
– Removal of stored liquids
OBJECTIVES
– Fall with the level of greenhouse gases
– Purification of the air, the decrease of bronchitises, bronchiolites, allergies…
– Combating the global warming
– Recovery of liquids for recycling and transformation
Let us act, it's not too late !
OMPE has the solution !