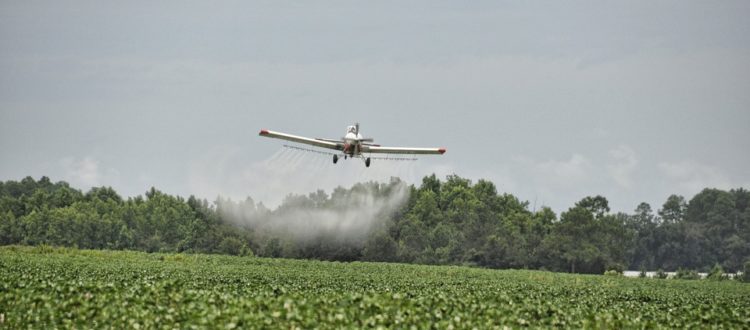 When agriculture pollutes the atmosphere
If one does not think at first, agriculture also plays a role in air or atmospheric pollution. Pesticides used in intensive agriculture pollute our air inexorably, affect human health, animal health and biodiversity.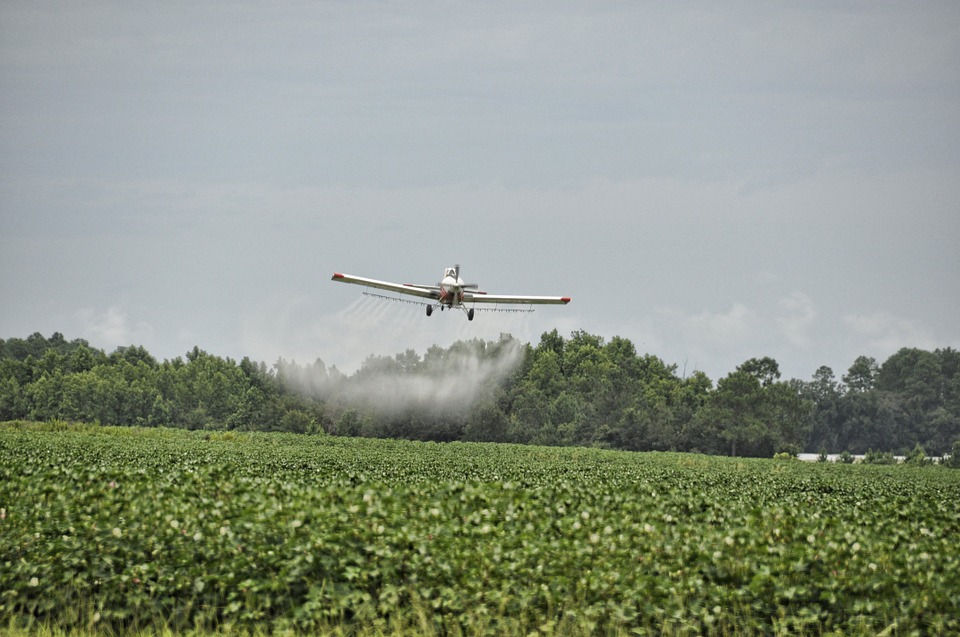 Air pollution, whether induced by industry or the transport sector, contaminates agriculture by emitting fine particles, ending their journey on crops and vegetables. Some pesticides remain in the atmosphere for a longer or shorter time, then are deposited on the soil, decomposed by sunlight, discharged into the water or dispersed in the air. However, plants have a particular sensitivity to most pollutants suspended in the air. For example, sulfur dioxide, emitted during burning of fossil materials, causes droplets to appear on the leaves with dew or fog.
Air pollution is thus intimately linked to the accumulation of pollutants in the soil, which reduces agricultural production and encourages farmers to be more dependent on nitrogen fertilizers (and thus the risk of groundwater pollution by Nitrates). In the end, a veritable vicious circle sets in, a perverse effect of long-term pollution that is reflected in the quality of today's agriculture and the "drinkable" water we drink. If nitrogen is an essential element for plant growth, it is its excessive use by conventional agriculture that is problematic.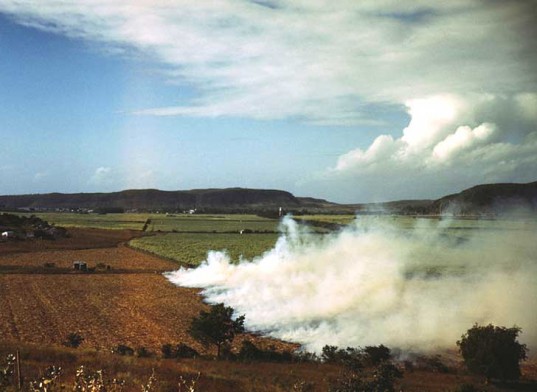 To encourage plant growth and maximize crops, farmers use nitrogen fertilizers in bulk and apply heavy irrigation. The problem is that plants absorb only half of these fertilizers. The rest end up in the atmosphere, soil and water, polluting our rivers and damaging aquatic biodiversity. Studies in the United Kingdom have estimated that between 50 and 60 kilograms of nitrogen were spilled per hectare per year ! However, in recent years, numerous studies have shown that pollutants in soil have a negative impact on vegetable crop growth, reducing their ability to capture and fix nitrogen, a key process for good development and a good yield.
The paradox of agriculture
Paradoxically, livestock and agriculture are sectors that contribute to air pollution and represent, by themselves, the main source of ammonia emissions, 97% of national emissions ! Fertilizers, livestock manure, fertilizers and animal feed are the main factors responsible for this contamination. The phenomenon, increasingly known, of acid rain is mainly caused by the large amount of chemicals and air pollutants released by factories or cars, among others. By suspending them in the air, they fall as rain, fog or snow (see our article dedicated to pollution snow ) which acidify the soil, damage plants, waters and harvests and strike a blow at the health of the human beings.
It is precisely that ammonia (induced, let us remember, by our agricultural practices) is a major cause of acid rain ! The snake eating its own tail… Yet in both developed and developing countries, ammonia emissions from agriculture and livestock continue to rise… Not to mention the damage caused by crops on burning which generate high air pollution that makes the agriculture sector accounts for almost for 35% of greenhouse gas emissions.